Conscriptor
Dictation apps create more time for patients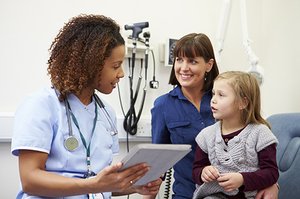 CHALLENGES
Conscriptor is Sweden's largest outsourced medical transcription service provider, and each year their more than 200 medical secretaries write up to 2 million patient records, for over 4,000 doctors in hospitals and healthcare centres all over Sweden.  However, when Conscriptor saw room for considerable improvements in the dictation process, which was cumbersome and lengthy, they looked for a partner who could understand their dilemma. 
-Since Strikersoft worked with similar solutions and since we worked with them and their highly competent development team before on other eHealth projects, we were confident they could deliver what we wanted, it was a natural choice, says Henric Carlsson, Founder and CEO of Conscriptor.
The existing dictation process took up valuable time that could be better spent with the patients.  On top of that the tools were stationary and outdated.  Even Conscriptor's medical secretaries were spending more time than necessary on the transcription process. Conscriptor wanted Strikersoft to develop a modern and mobile dictation solution, which would even speed up the transcription process.
SOLUTIONS
Strikersoft developed 2 apps for Conscriptor, DictaSend and MedSpeech Air.  DictaSend can be used by the medical professional when it is convenient for them, and since the solution is mobile then it is no longer necessary to do all the dictating at the desk. A login and password is provided by Conscriptor and as soon as the patient record has been dictated, it can be dispatched with just a few clicks to Conscriptor's medical secretaries for transcription.  
In the case of MedSpeech Air, which is available for iOS and Android phones, when the medical professional logs in the latest patient record is displayed.  The real-time speech-to-text function means that Conscriptor's medical secretaries are provided with already transcribed information that they can adjust and verify.
RESULTS
The most significant result is that medical professionals spend less time on administration and can spend more time with their patients. Since the eHealth apps are easy to use, and in the case of MedSpeech Air the latest approved patient information is always available, medical professionals can focus on the patient's current questions, instead of searching for patient information.  
Since the transcription process has also been improved, even Conscriptor's medical secretaries save time. With MedSpeech Air for example, it is possible for the medical professional to have a completed patient record in a day.
"More care, less administration is what Conscriptor epitomizes and Strikersoft has played a big part in achieving that."

More about Strikersoft's eHealth solutions, click here