Ordo - eHealth at home
After an accident or an operation, rehabilitation is often required.  Many come home with a pile of paper and high ambitions.  But it can be hard to remember exactly what one is supposed to do, and there is no-one to ask. Many also "forget" to start the program or lose motivation after a short while.
In the right way
With step-by-step instructions on the mobile phone or tablet, the patient knows exactly what should be done.  A video together with illustrations and text describes each stage, in an easy to understand way, and records progress when it is done.
Follow-up and customize
The automatic progress reporting makes it easy for the caregiver to follow-up the treatment, and when necessary adjust and improve the exercises and even how the treatment program is set-up.  This makes it easy to customize the rehabilitation and quickly adjust it as required.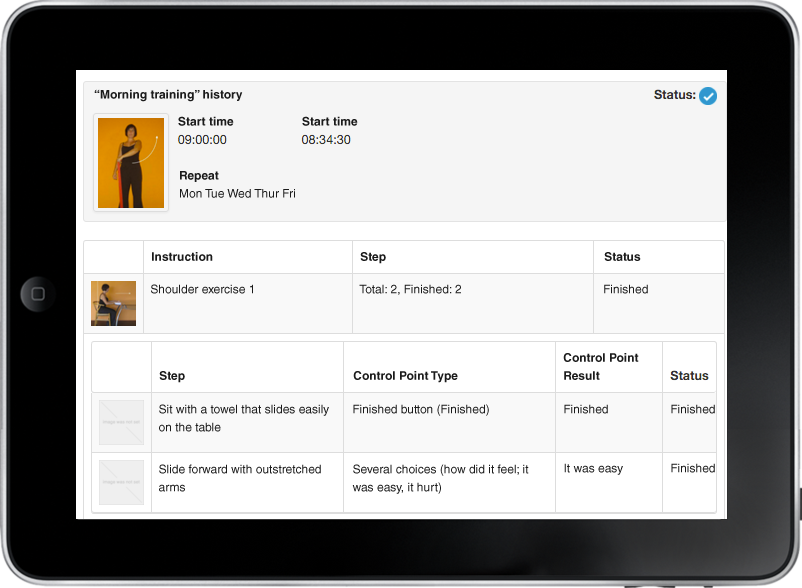 Prepare check-up
Today there is no follow-up between check-ups if the patient doesn't contact the caregiver him or herself. It makes it hard for the caregiver to prepare for the check-up, especially if the meeting is to be about the next step in the treatment, explain exercises that have been difïcult for the patient, or encourage the patient to start the program. With Ordo the caregiver can immediately see when the patient has exercised, and even be alerted if no patient exercise activity is recorded during a particular time period.
Develop new programs
The various exercises can easily be changed and one can have different programs based on the day of the week or the number of completed exercises. During the development of new rehabilitation programs Ordo is a good tool for eHealth, where the treatment program can be tested and easily changed, whilst at the same time valuable on-line feedback from users are automatically collected.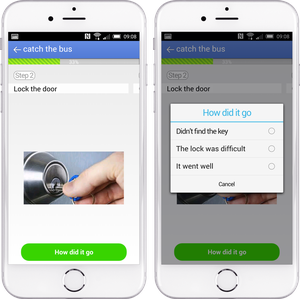 Cognitive aids
Ordo can also support those in need of cognitive aids. Step-by-step instructions with clear follow-up questions simply guide the individual through all the steps. It is also easy to ask the user for feedback, "How did locking the door go?", which also adds an extra level of control.
Technology
 App-based, Android and iOS

 Web-based interface for the caregiver

 Software service, that is no installation of software on the  computer

Please send me more information on Ordo