Watch the eHealth seminar with Praktikertjänst and Strikersoft
Did you miss the breakfast seminar "How do we involve the 'three Ps' - Patient, iPad and Personnel - in the change process?" held by Strikersoft and Praktikertjänst on 20 October? Watch it here.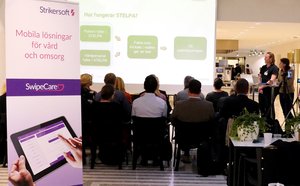 The seminar was streamed on Periscope (Twitter) in Swedish. Watch it here

Elisabeth Norén, Head of Geriatrics and Development Manager at Praktikertjänst N.Ä.R.A. AB, and Fredrik Eriksson, Senior Medical Advisor at Strikersoft, shared their experience of eHealth's introduction in healthcare settings. Among other things, Elisabeth talked about the introduction of the iPad-based tool STELPA in Praktikertjänst's specialist home care (ASIH) units, while Fredrik shared insights he gained from his participation in the cooperative initiative between Uppsala County Council and Intermountain Healthcare in the US concerning quality assurance.
Both agreed that it is neither technology nor major new systems that are needed, primarily, but rather that staff – and also patients – be involved in the design and implementation of the change process. Fruitful discussion with the knowledgeable audience followed. Audience members posed many questions about the structure of questions and processes that were answered by Linda Vogt, a nurse with the ASIH unit in Täby, who uses STELPA in her day-to-day work.
The seminar was streamed on Periscope (Twitter) in Swedish. Watch it here
Viewers who prefer Facebook Live can access the feed at @Strikersoft on Facebook.

To learn more about Strikersoft's eHealth solutions, click HERE