Our Story
Strikersoft helps organisations make their ideas come true. We do this by finding the best technical and commercial solutions for new and disruptive business ideas.
We also help you become genuinely efficient – saving you both time and money – by digitalizing your operations and creating enhanced user experiences.
 Strikersoft was launched in 2006 and now employs 60 staff. Our headquarters are located in Stockholm's tech hub, Kista, together with our project management and sales divisions. 
Strikersoft's R&D unit is located in Kyiv, Ukraine – a city that currently ranks at no. 4 in the world in terms of the number of professional IT developers. This nearshoring means both close physical proximity and efficient communication.
Mission & Vision
Mission: We help businesses transform their industries by providing excellence in digitalisation.
Vision: A safer, healthier and more efficient world.
Values
PROFESSIONALISM 
We actively search out new knowledge. We pay attention to detail and remain committed until we achieve our goal. This approach results in high-quality, on-time deliveries.
ENTREPRENEURIAL
We have a business-oriented mind-set that involves quickly making decisions and finding solutions.
PASSION
We have fun. We gain satisfaction from our work. We love what we do and it shows!
TRUST
We are honest, open, ethical and fair. We keep our promises.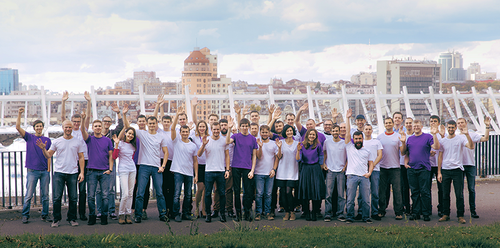 Strikersoft's development team
Take a tour of our developent facilities
Strikersoft as Partner
Listen to Roger Larsson at Praktikertjänst describe the working relationship with Strikersoft.
Corporate Social Responsibility 
Strikersoft proudly supports Hand in Hand, an organisation that helps women in some of the world's poorest countries to start businesses so they can support themselves, their families and even their neighbours and friends. 

Learn more about Hand in Hand here.
Company Presentation
You can view Strikersoft's official company presentation on SlideShare.
Our Customers
We have over 60 customers on three continents, including:
• VisueCare
• ABB
• Mediasmiths
• Crowdsoft
• Secmaker