Strikersoft Launches SwipeCare® Clinic – an Integrated Digital Consultation System for Healthcare Centres
The system integrates physical and digital doctor's visits to create a seamless care process for the patient, all without increasing the need for administration.
Robert Berg, VP eHealth at Strikersoft, explains SwipeCare® Clinic and its advantages for healthcare clinics and patients.
Video-based digital healthcare consultations will soon be widely available. Strikersoft's SwipeCare® Clinic system allows healthcare centres to offer digital accessibility to their services via both visual and text media.
Offer both alternatives
"Some patients want to continue visiting their local healthcare centre, while others just want a digital portal to healthcare services via their mobile phone. SwipeCare® Clinic allows healthcare centres to offer both alternatives, as well as the ability to quickly book a digital patient in for a physical consultation when the first interaction reveals that this is necessary," explains Robert Berg, VP eHealth at Strikersoft. "While the introduction of digital doctor's visits is a step forward, it is important that the advantages of digital consultations are not undermined by an increased administrative load and that medical appointments are not spent creating documentation," he adds.
Patient case history
In addition to its video consultation capabilities, SwipeCare® Clinicc also makes it possible for patients to record their background information themselves and to assess their condition prior to their visit. Currently, patients are often asked to answer the same questions and fill in the same information multiple times. SwipeCare® Clinic avoids this kind of inefficiency, since information can be retrieved directly by healthcare staff, updated and then automatically re-entered in the patient's journal. An integrated process of this nature also means greater patient involvement in their own care, while still allowing healthcare staff to retain full control.
More involved
"Increased participation makes the patient feel more involved in their own care," says Robert. "Since all digital contact with patients begins with their logging in using the electronic ID service BankID, healthcare staff are also always guaranteed to have the right Personal Identification Number for each patient," he explains.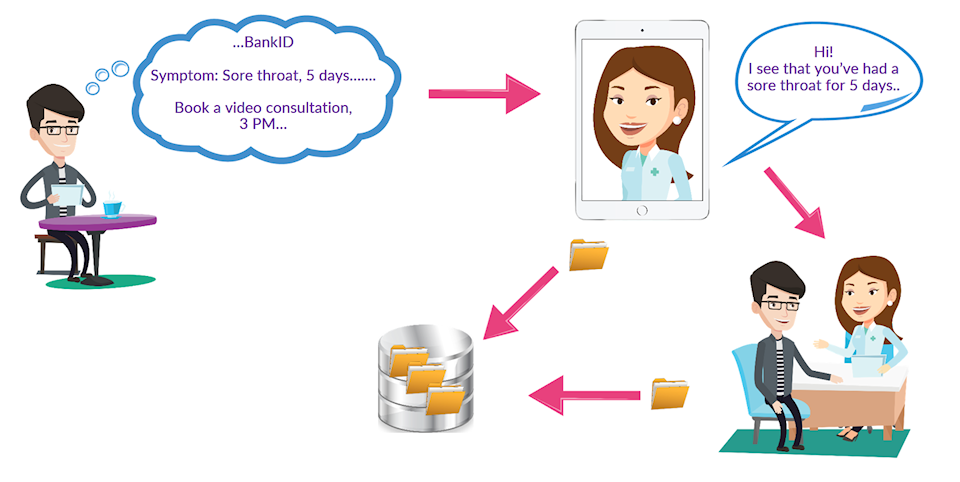 The patient logs in using BankID via the app/web interface
Their selection of the reason for contacting the healthcare provider directs them to the correct form
The patient enters their case history using the questionnaire
They make an appointment for a digital consultation
Payment is made, a confirmation is sent to the patient
A digital consultation is held with the healthcare provider
If needed, a physical consultation is arranged
The healthcare provider updates the patient's journal, including any prescriptions/referrals
The journal entry is signed and entered directly into the patient journal system
New group of patients
An increasing number of patients appreciate the convenience of being able to contact a healthcare centre via their mobile phone or computer. What's more, SwipeCare® Clinic allows physical healthcare centres to expand their service offerings, thereby reaching a new group of patients whom they may not have attracted previously.
Seamless care process
"Together, we offer a digitalised and seamless care process that guarantees top-quality information and documentation, the opportunity to expand your patient base and significant savings, since it eliminates the need to record the same information over and over again," concludes Robert Berg.
---
FREE E-BOOK: IT in Healthcare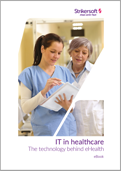 Drones, surgical robots and new smart apps. This eBook examines the technology behind eHealth and gives examples of how it is helping to shape tomorrow's healthcare today.
---
Read more about eHealth >>