CGM and Strikersoft Sign Cooperation Agreement
Strikersoft and CGM sign cooperation agreement, Strikersoft becomes active member of CGM's Partner Programme.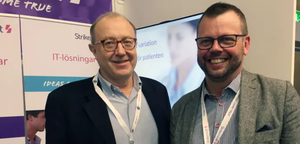 "The healthcare of the future, with [Swedish e-health initiative] Vision 2025 setting the bar, can only be realised if we open up today's rigid structures and instead think in terms of networks," says Carl-Gustaf Helander, Partnership Manager at CGM. "We believe that healthcare must harness the full development potential of small and medium-sized eHealth companies, in particular. We initiated our Partner Programme with this in mind, and are now pleased to welcome entrepreneurial company Strikersoft into the fold."
"Strikersoft's development work, together with its clinical application at Praktikertjänst N.Ä.R.A., for example – where nurses enter patient data into CGM's TakeCare healthcare information system after each visit using the iPad app SwipeCare® –  is a good example of the kind of patient-focused care that we want to further develop within the network," he adds."
Endorsement of Quality 
"CGM's strong position within Swedish healthcare, together with their new offering, CGM Health Alliance, which involves an exciting shift from journal system to innovation platform, makes CGM's Partner Programme somewhat unique," says Robert Berg, VP eHealth, Strikersoft. "Being chosen for membership in the Partner Programme equates to an endorsement of quality that we're very proud of, and we're looking forward to both benefitting from and contributing to the network's collective expertise and experience," he says.
CGM's Partner Programme creates opportunities for cross-fertilisation among network partners. 
"We want to serve as an incubator for fast-moving entrepreneurial companies, whereby we support the local eHealth industry and, at the same time, ensure both that Swedish standards are met and an optimal patient experience for every Swedish resident," Carl-Gustaf concludes.
Contact person Strikersoft: 
Robert Berg
VP eHealth
Ph.: +46 (0)70 79 25 510


Contact person CGM: 
Carl-Gustaf Helander
Partnership Manager
Ph.: +46 (0)73 39 98 804
Listen to CGM Sweden's CEO Daniel Andersson when he describes the partnership with Strikersoft.
FREE E-BOOK: IT in healthcare
Drones, surgical robots and new smart apps. This eBook examines the technology behind eHealth and gives examples of how it is helping to shape tomorrow's healthcare today.