SwipeCare
Digitalization opens up new possibilities in eHealth to combine efficient processes with more patient-focused healthcare.
Common way of working reduces variation
SwipeCare is an award-winning tool for IT in healthcare that reduces variations in assessments, involves the patient, and makes it easier to write medical records.
Guides and comprehensive templates ensure a common way of working for the whole organisation, with uniform processes that increase efficiency and quality of care. 
Watch Linda Vogt from Praktikertjänst N.Ä.R.A.'s Specialist Home Care Unit (ASIH) talk about her experiences of using SwipeCare together with patients in her daily work.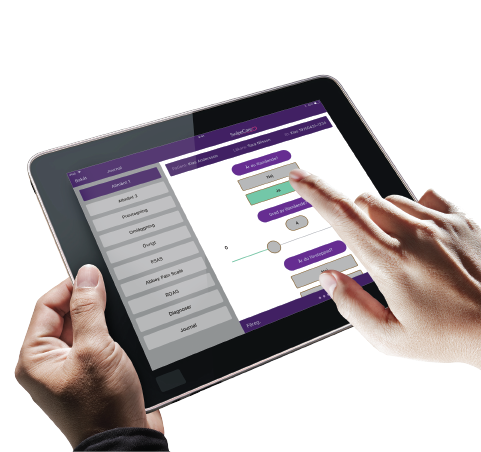 Mobile, smartphone and tablet
Structured and same way of working
Explanatory illustrations and text
Suits different types of care
Increases patient participation
SwipeCare® Clinic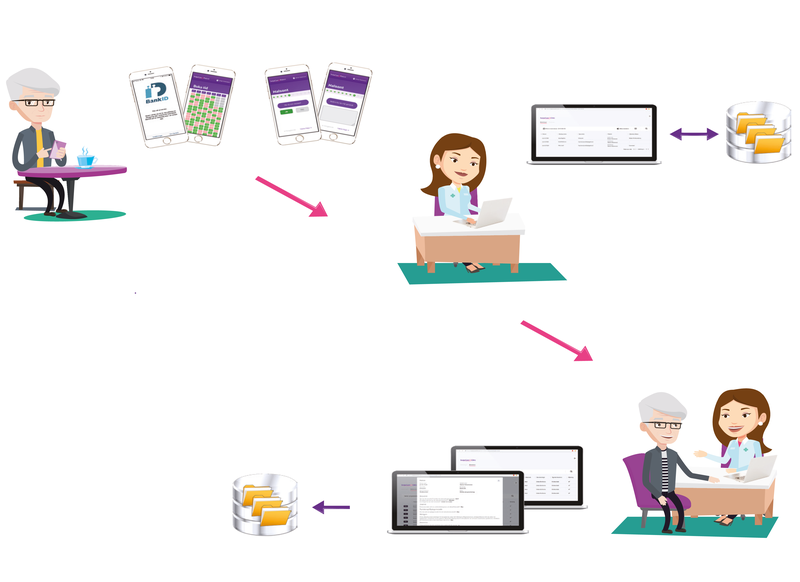 Seamless Care Process
SwipeCare® Clinic is a complete, mobile and flexible eHealth system. It creates a seamless care process that covers everything from identification, self-referrals, appointment bookings, self-recorded anamnesis and payments to assessments, medical records entries and statistics. Not only that, the system's self-referral and self-recorded anamnesis functions let the care process begin even before the patient's consultation. This means that both patient and healthcare staff can focus on the patient's situation and ailments when they meet, instead of spending time going over and filling in administrative information in various systems.
Implementing eHealth
Digitalisation often involves changing your work procedures and processes. We asked some of our customers who have already started their digitalisation journey to share their experiences with us: What things should you think about? What can you expect from the change process?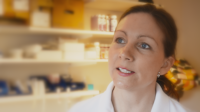 Watch Elisabeth Norén and Linda Vogt from Praktikertjänst and Fredrik Eriksson from Vårdhuset tell us about their experiences of implementing eHealth.
What is eHealth?
What exactly is eHealth? The term often refers to new IT solutions and innovations that improve and revitalise health-promotion efforts and generate new approaches in healthcare and social care. Even so, eHealth is neither a device nor the technology used, although technology in the form of digitalisation is what makes progress possible. Instead, eHealth can best be described as a change process, because it involves both major changes in the form of new ways of thinking and working, as well as small process improvements in everyday activities.
These can include everything from documenting healthcare visits directly in a journal together with the patient, to introducing a common nursing process across all disciplines, or using a humanoid robot to help the elderly in their homes.
Lagging behind
The rapid digital development taking place in today's society has led to major advances in quality, accessibility and efficiency. Different parts of the community have progressed to differing degrees in their journey towards digitalisation, however, with healthcare being one area that has traditionally lagged behind. At the same time, healthcare and social care sectors face major challenges in the form of ageing populations, shrinking resources and inflexible organisational structures burdened by the weight of tradition.
The current situation causes both ordinary citizens and patients great inconvenience, including everything from long waiting times for healthcare services to a poorer quality of life. eHealth is one of the most important tools available in overcoming these social challenges and taking advantage of digitalisation's opportunities.
Best in the World
In March 2016, the Swedish government and the board of the Swedish Association of Local Authorities and Regions (SALAR) unveiled a new vision for eHealth that aims to see Sweden become the "best in the world at using the opportunities offered by digitisation and eHealth," by 2025. Achieving this vision will require new technology and innovative ways of applying it as well as, above all, a willingness on the part of the healthcare and social care sectors to embrace new work practices.
To succeed, efforts to change existing work practices and long-standing structures will need to be combined with the introduction of new technological solutions. Changing human behaviour takes time, and often quite a long time at that. That being the case, for Swedish healthcare to achieve Vision 2025, the current degree of innovation and pace of change both require a significant boost.
Innovations
Major Swedish stakeholders like SALAR and CompuGroup Medical (CGM) believe that the innovations needed to achieve Vision 2025 can be found mainly within small entrepreneurial companies like Strikersoft, which has worked with eHealth since 2010. Learn more about Strikersoft's contributions to achieving patient-centred, better-quality and more readily-accessible healthcare here below.
mHealth
mHealth, or mobile health, is perhaps one of the most vibrant areas in eHealth. As resources are transferred from hospitals to primary care, and more and more healthcare is conducted in homes, mHealth will become a natural part of the healthcare system: everything from mobile devices in our homes to apps in our back pockets will be commonplace within a few years. In fact, mHealth might just be the key to finally making IT in healthcare patient-focused instead of technology-focused.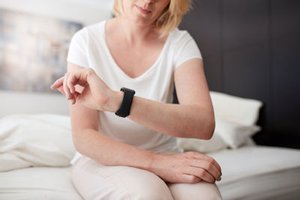 Just like with eHealth, there is no official definition for mobile health or "mHealth". That said, mHealth is most commonly viewed as a sub-category of eHealth and generally refers to the use of smart and mobile technology to facilitate and streamline documentation and communication within healthcare. Examples include mobile journal-keeping and making medical appointments via websites like Sweden's My Healthcare Contacts (Mina vårdkontakter) site.
     The mHealth concept also covers the digital tools that make healthcare itself physically mobile, such as video links for holding remote doctor's consultations, but also the quick access to healthcare services on the go provided by the app in your back pocket, IM app on your computer and answers generated by online forums after office hours.
Inspiration and news within eHealth
Exchange of experience with US on quality measures in healthcare
The visit was the first step in a partnership to exchange experiences around follow-up and quality measure and metrics in healthcare for patients with congestive heart failure.
New eHealth concept provides qualitative remote care
- Creating a remote eHealth solution to support the chronically ill, the elderly, or those in permanent care was a goal of ours, says Tomas Hörger, Head of Development at nWise.
6 tips for successful change management in healthcare
Even if Swedish healthcare is ahead in many ways, development possibilities are still good, not least through improving organizations with the help of IT support. At the same time change means challenges...
Praktikertjänst improves patient care with smart eHealth technology
When Praktikertjänst N.Ä.R.A. in Täby chose to start up a new team for advanced medical care in the home, Elisabeth Norén, today's head of Geriatrics, was one of the initiators.
Apps save work and make more time for patients
-Reducing the time healthcare professionals spend on administration, so that more time can be spent with patients, is core to our business, says Henric Carlsson, Founder and CEO of Conscriptor. The problem with some of today's solutions that support healthcare professionals in their daily work is that they are difficult to use and take up valuable time with the patient, continues Henric.
Standardized routines improve and enhance healthcare quality
One of the biggest challenges in healthcare is the need to reduce the variation in the treatment of patients. The goal is to tailor the care to the patient's needs, irrespective of which health centre the patient attends, or which healthcare professional the patient meets. Fredrik Wångberg, CEO of the IT company Strikersoft, who works with the development of new healthcare services among other things, sees the possibilities of working in a more clever way.
CUSTOMER CASES