Strikersoft in the Press: "Strikersoft Signs Ground-breaking UK Deal"
IT company Strikersoft is set to leverage the experience gained during its development work with Praktikertjänst as it expands its presence in the UK after signing a partnership agreement with Royal Cornwall Hospitals NHS Trust (RCHT).

The following article previously appeared in the newsletter Digital Hälsa on 11 September. Digital Hälsa is an independent business-to-business news publication reporting on the digitalisation of healthcare, nursing and other aspects of the welfare sector. For more information, visit http://www.digitalhalsa.se/
Major breakthrough into the UK
The deal will see the partners jointly develop health-related IT and mobile applications. For Strikersoft, the agreement represents a major breakthrough – entry into the UK's eHealth market.
"We've been developing our own eHealth applications for several years, but with the increased demands on healthcare, we now realise that our main focus should be on developing the care processes themselves, rather than IT," says Frazer Underwood, Associate Director of Nursing at RCHT, in a press release. Ordinarily, RCHT provides acute and specialist care services to around 500,000 people living in Cornwall and the Isles of Scilly. During peak tourism seasons, however, the number of potential patients in its catchment area increases significantly.
One of the leading healthcare organisations
While Strikersoft already has a presence in the UK, the newly-signed deal is the company's first agreement with a UK healthcare provider. According to Strikersoft CEO Fredrik Wångberg, the partnership with RCHT is especially prestigious, since it is one of the Cornwall region's leading healthcare organisations. Cornwall has long been a leader in the field of innovation and there is clear interest in the region in adopting new healthcare technologies and processes.
Test eHealth applications within the NHS
Under the deal, Strikersoft will have the opportunity to test its eHealth applications in everyday settings within the NHS healthcare system. Fredrik Wångberg considers the NHS to be a "gold mine" when it comes to better understanding both the emerging needs of healthcare workers and patients and how to make eHealth tools more user-friendly and intuitive.
"Our partnership with RCHT gives us the opportunity to start our development process from the bottom up in everyday care settings together with healthcare staff and patients. Getting staff on board during change processes has proven to be one of the most important success factors when introducing new eHealth tools," Fredrik explains.
Strikersoft took the same approach during its collaboration with major private healthcare provider Praktikertjänst N.Ä.R.A. during the development process that culminated in the launch of its SwipeCare® mobile application. (Read more in Digital Hälsa, 3/5/2017.)
Further develop eHealth apps
Tim Bray, Strikersoft's Vice President Sales UK, negotiated the agreement with RCHT:
"In addition to testing Strikersoft's eHealth products within RCHT, we also plan to further develop the eHealth apps already produced by RCHT itself," he explains to Digital Hälsa.
Strikersoft will also help the Trust to market its own eHealth apps to other healthcare providers in the UK.
Joint stand at the Health and Care Innovation Expo 2017
The new agreement also includes Strikersoft and RCHT manning a joint stand at the Health and Care Innovation Expo 2017 being held in Manchester today and tomorrow, 11-12 September. The expo has been organised by NHS England.
Since 2010, Strikersoft has been developing eHealth applications that reduce administration, increase quality and promote patient-centred care. Strikersoft is a partner to CompuGroup Medical (CGM).
Royal Cornwall Hospitals NHS Trust employs around 5,000 staff and has a budget of approximately £330 million.
Digital hälsa - Follow Sweden's progress towards its Vision for eHealth 2025
The market's most revealing insights into the digitalised healthcare industry. eHealth news sent directly to your inbox.
FREE E-BOOK: IT in Healthcare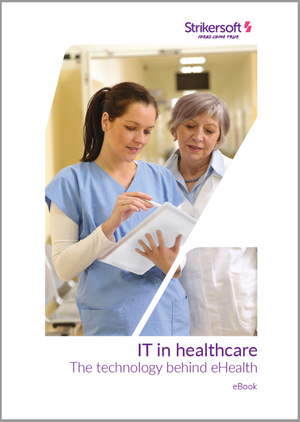 Drones, surgical robots and new smart apps. This eBook examines the technology behind eHealth and gives examples of how it is helping to shape tomorrow's healthcare today.