Strikersoft in the Press: Findings from NHS England's Innovation Expo
As in previous years, this year's annual innovation expo organised by NHS England showcased a wealth of new ideas and provided an excellent opportunity to identify emerging trends in the UK's eHealth market.

The following article previously appeared in the newsletter Digital Hälsa on 25 September. Digital Hälsa is an independent business-to-business news publication reporting on the digitalisation of healthcare, nursing and other aspects of the welfare sector. For more information, visit http://www.digitalhalsa.se/
A holistic view supporting the practical implementation
"One of the clearest impressions I took away with me from the expo is that NHS strategies and initiatives are characterised by a holistic view when it comes to supporting the practical implementation of eHealth solutions," says Fredrik, Senior Medical Advisor at eHealth company Strikersoft, who took part in the expo, summarised the event.
NHS Digital
The NHS, a public body with 1.7 million employees, provides healthcare for the UK's 64 million residents. The UK has also created a special sister organisation, NHS Digital, to support and accelerate the digitalisation process in the healthcare sector. NHS Digital's commission is to expedite both the creation of software applications and collaboration with external businesses and partners. 
The organisation will carry out its work as an independent actor, cooperating with other parts of the NHS at "arm's length". NHS Digital will also promote the sharing of experience between local NHS organisations.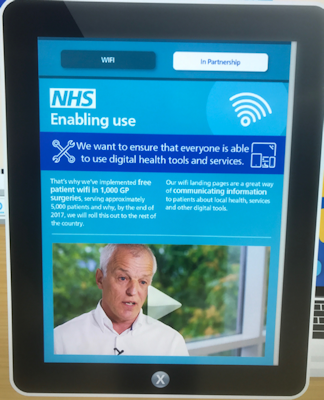 wifi at all healthcare units
"The NHS is currently rolling out infrastructure that will give all its healthcare units across the UK access to a wireless Local Area Network (LAN). The initiative aims to ensure that eHealth applications will have access to an Internet connection wherever they are used and that healthcare staff and patients will be able to communicate with one another," says Fredrik to Digital Hälsa.
Framework for all IT providers
NHS Digital is currently drafting a framework agreement that will help IT providers integrate and certify apps and other IT solutions. The agreement will allow individual healthcare providers and units within the NHS to sign agreements with various IT providers. 
"The framework agreement is expected to promote the spread of smart solutions within the NHS organisation," says Fredrik.
Drive change
A number of major seminars held during the expo dealt with how to promote and implement change in large organisations (change management).
"Two success factors highlighted were genuine efforts to reshape workplace culture and consistent and far-sighted leadership. Understanding that difficulties and solutions are universal, while circumstances are local, is also important," Fredrik concludes.
AI and machine learning
Other key themes explored during the expo included the secure collection and analysis of big data, expert support via digital channels, AI, machine learning and volunteer organisations' role in the healthcare system.
Joint booth
Strikersoft and English healthcare provider Royal Cornwall Hospitals NHS Trust (RCHT), manned a joint booth at the expo, which was held this year in Manchester, 11-12 September. Read more about Strikersoft's and RCHT's new collaboration agreement in Digital Hälsa, 11/9/2017.
To access the full newsletter (in Swedish), click here.
Digital hälsa - Follow Sweden's progress towards its Vision for eHealth 2025
www.digitalhalsa.se
The market's most revealing insights into the digitalised healthcare industry. eHealth news sent directly to your inbox.
FREE E-BOOK: IT in Healthcare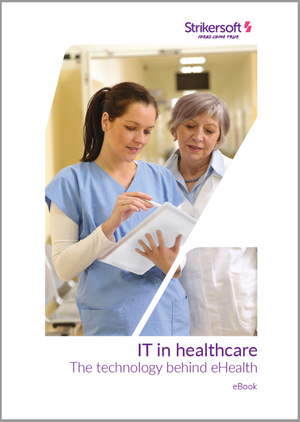 Drones, surgical robots and new smart apps. This eBook examines the technology behind eHealth and gives examples of how it is helping to shape tomorrow's healthcare today.