BDO
From paper calendar to digital marketing platform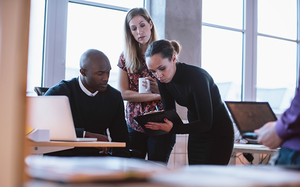 CHALLENGE
BDO International is the world's fifth-largest audit and consultancy firm, with more than 1,300 offices in 150 countries. In Sweden, BDO can be found in 20 locations throughout the country.
BDO had been distributing paper calendars to their clients for many years. Their calendars had the benefits of including useful information about tax and important tax reporting dates.
With the increasing use of mobile calendars by BDO's clients, the paper calendars provided by BDO had become outdated. BDO needed to convey their information in a new and relevant way. It was time to make the calendar digital.
RESULTS
Strikersoft developed a mobile application for BDO so that they could reach their clients in a more effective way. The app is easily downloadable from App Store or Google Play, and gives the user rapid access to important facts which are logically presented and come with full-text search capability.
A reminder function was also included that prompts the user about important dates from the tax authorities in order to help clients manage their tax reporting, thereby avoiding unnecessary penalties. Other features offer users easy ways to get in touch with BDO, by calling or mailing from the app and also includes information about how to find the closest BDO office.
The BDO mobile application not only provides clients with useful tools, but also gives BDO a great marketing platform where clients and others who have downloaded the app, can be continuously informed and reminded about their services.