Better quality care & more time for patients: Strikersoft & Capio reveal SwipeCare® geriatrics pilot study results
During the spring and summer of 2018, Strikersoft and Capio conducted a pilot study at two geriatric units at Dalens Hospital, south of Stockholm, in which staff used the SwipeCare® Hospital eHealth tool when admitting patients.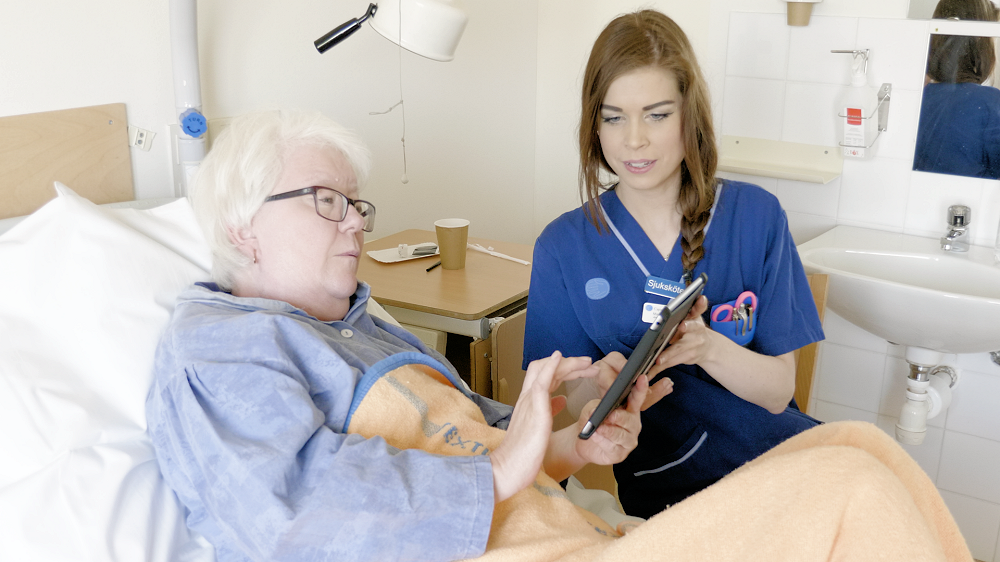 "What struck us is how much more structured the information entered in patients' medical records becomes when you use SwipeCare," says Dag Salaj, Chief Medical Officer at the Geriatrics Unit, Capio Dalens Hospital. "It makes the process so much easier, giving staff more time to focus on caring for patients. SwipeCare has also been shown to reduce interruptions during the time healthcare staff spend with patients. This means a better working environment for them and, naturally, also a better care experience for patients," he explains.
Easy to use
"Implementing a pilot study during the summer months always presents a special challenge due, in part, to the many temporary staff on duty," says Eva-Lena Engman, Senior Project Manager eHealth at Strikersoft. "With SwipeCare Hospital, however, we encountered no problems at all during the evaluation. On the contrary, over 90 per cent of the staff reported that using SwipeCare was either 'easy' or 'very easy'," she says.
Support in registration
"We're very pleased with the result," adds Dag. "Patients enjoy better quality interaction with their caregivers, the quality and structure of the information entered in medical records are better, there's more time to spend with patients and staff receive help in processing admissions via a tool that they find easy to use," he says.
More units
"Introducing SwipeCare is part of Capio's overall strategy for staying at the forefront of digitalisation in healthcare and patient-centred care. We now plan to introduce SwipeCare in other units during the autumn," Dag concludes.
Contact us to find out more about the results.
Capio is one of Europe's leading healthcare companies. In addition to our units in Sweden, we also have operations in Norway, Denmark, France and Germany. In Sweden, Capio is active from Umeå in the north to Malmö in the south, offering primary care, somatic and psychiatric specialist care and emergency care services. Our vision is to provide the best possible quality of life for each patient. Our staff of over 13,000 employees has this vision as a benchmark in their work, each and every day. In 2017, we received a total of 5.1 million patients across the five countries where we operate and hope that we fulfilled our goal of curing, relieving and comforting them all.
Strikersoft develops healthcare-digitalisation tools that improve quality of care, reduce administrative load and increase patient participation. Strikersoft is also a member of CGM's Partner Programme.
SwipeCare® Hospital is an award-winning eHealth system for use in in-patient care. It includes an iPad-based tool with advanced templates that create a standardised approach to documentation and anamnesis right throughout an organisation. This increases efficiency by eliminating duplicate documentation and by making patient data accessible in medical records immediately after consultations. It also promotes a better quality of care by reducing variation among assessments. The tool's intuitive user interface also gets patients involved in their care by allowing them to fill in details about their own health status.