Strikersoft and Medfit Sign SwipeCare® Clinic Contract
Strikersoft has signed a contract with Medfit for its eHealth tool SwipeCare® Clinic. The solution will help Medfit digitalise its entire care process, from patient identification to medical records entries.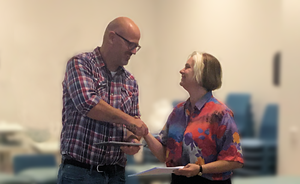 "We aim to be at the forefront of development and to take advantage of the opportunities that healthcare digitalisation offers in the form of new tools and improved processes for both staff and patients," explains Medfit CEO Staffan Forsström. "Among other benefits, SwipeCare Clinic will equip our centres with virtual reception desks where patients can identify themselves, write self-referrals and fill in health declarations as well as book appointments and pay for services. This will mean clear improvements in accessibility, patient safety and efficiency prior to patient consultations."
Virtual Reception Desk
The virtual reception desk will be the first stop for patients in Medfit's care process. Healthcare staff will then use SwipeCare® Pro during the consultation itself – an iPad-based information tool that supplements a patient's own description and other patient data with medical professionals' assessments and diagnoses. The process concludes with SwipeCare Pro sending all this material directly to the TakeCare medical records system.
"Medfit is a good example of a healthcare provider who has been quick to realise the opportunities that digitalisation offers and who is aiming to create a seamless care process based on a digital approach. Many providers simply digitalise their paper forms and then continue doing things as they've always done. Those who do so haven't understood what true digitalisation involves," says Strikersoft CEO Fredrik Wångberg. "We're proud to have been welcomed on board as a trusted partner in Medfit's journey towards digitalisation," he adds.
Strikersoft develops eHealth tools that improve quality of care, reduce administrative load and increase patient participation. Strikersoft is also a member of CGM's Partner Programme.
SwipeCare® Clinic is an integrated healthcare system for use by specialist clinics and primary care units offering out-patient care. It offers a seamless care process covering everything from appointment bookings and payments to self-referrals, self-recorded anamnesis, medical records entries and statistics.
For more information about SwipeCare® Clinic >>
Medfit operates two primary care facilities under the Stockholm County Council's public healthcare system, one in Flemingsberg and one in Haninge, both located just south of Stockholm. Medfit Flemingsberg is Stockholm's largest rehab and fitness centre, offering an ultra-modern health and fitness facility covering 4,000 m2 that combines the latest in fitness with access to rehabilitation and healthcare specialists. Medfit's aim is for every patient to feel satisfied with their treatment and Medfit's service and to help them get one step closer to living an active, pain-free life.