UX/UI Designer
Do you want to make a difference?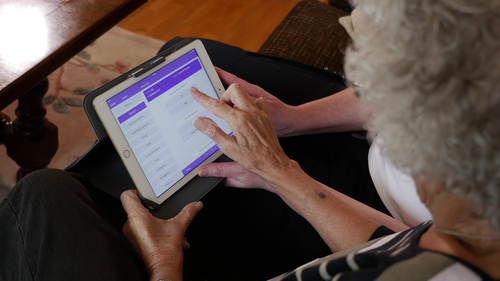 Strikersoft is passionate about helping people achieve better health and live safer lives and about creating a more efficient world through digitalisation. Our main focus is on helping entrepreneurs and organisations create solutions for the eHealth, safety and telecom/IT sectors. We also have a number of our own proprietary solutions, particularly in the eHealth field. Among these is SwipeCare®, a digital tool that is currently being implemented on a broad scale by Sweden's largest private healthcare provider, Praktikertjänst.
UX Designer
Both Strikersoft and our customers are currently expanding. To help us continue growing, we're looking to add a UX designer with a focus on eHealth to our team. You will be part of a cross-functional unit that includes project managers, sales reps and marketing and will work closely with our R&D unit. Your primary task will be to design functional, intuitive and secure user interfaces for our eHealth products.
Work Duties
We're looking for a team member who possesses both breadth and depth of design expertise and who perhaps has a special interest in usability studies and testing and in programming and creating interactive prototypes to visualise their design. We develop our solutions using scrum/agile frameworks, i.e. through incremental deliveries of an increasingly complete product. One of your tasks will be to carry out real-life testing in the field, making adjustments until the end product is truly intuitive and useful. You should enjoy working towards a long-term objective throughout the duration of the design process, from initial user and proof-of-concept studies to user testing of the implemented product, and should be motivated by your daily contact with healthcare staff and patients.
To enjoy working at Strikersoft, you need to:
Share our values: professionalism, entrepreneurial, passion and trust
Be interested in eHealth and be able to understand the clinical applications of Strikersoft's and our customers' products and how these are used and can be implemented in our customers' operations
Enjoy working closely with customers and users and endeavour to understand our users' needs at a fundamental level 
Enjoy working in cross-functional teams
Enjoy working with safety-critical systems
Accept the challenge of constant learning and actively contributing to the on-going development of our products
Understand the significance of public authority requirements concerning patient safety that regulate access to the global market 
Be willing to be part of a team where you actively draw on the expertise of each member and, at the same time, help strengthen the team spirit and the team's competence
Have a desire to grow. We have many challenging and stimulating assignments to offer you.
Suitable Qualifications/Background
A Master's degree with a major in interaction design and/or cognitive science.
Experience of/knowledge about UX design for complex products and systems and of how interaction design integrates with other aspects of product development.
Experience of/knowledge about applying user-centred product development methods.
A very good knowledge of both written and spoken Swedish and English.
Experience/knowledge gained through the development or practical use of eHealth tools will be viewed positively, but is not a requirement.
Experience of/knowledge about designing digital services for many different target groups in both the public and private sectors is a plus.
You should have the following personal qualities:
Communicative – It is very important that you can communicate information, knowledge and requirements specifications to both end-users and our development team and can justify and explain your design choices.
Social – Accompanying customers and performing practical work in the form of user studies conducted in the field with patients, healthcare staff and others requires flexibility and good social skills.
Analytical and systematic – The challenges you will face in your work will often be complex and demanding. 
Creative and thorough – You should also be able to break large/difficult tasks down into manageable components while maintaining a holistic view of and overview of the task at hand.
Industrious initiative-taker – User studies and evaluations are conducted as sub-projects within larger projects. 
Humble and pragmatic – There are many different desires, requirements and views that need to be given due attention and incorporated into the development of our UX design. 
Do you enjoy working with entrepreneurs on IT solutions that make positive changes to the way people live and work? Strikersoft is offering you the chance to do exactly that. Submit your application to join our dedicated team today.
To apply
Send us your detailed CV and cover letter in Engelska by clicking here. 
Quote the reference "UX/UI Designer".
For questions about the position, contact Strikersoft CEO Fredrik Wångberg on +46 730 632 301 or by mail here.
What is it like to work at Strikersoft?
Let's listen to some colleagues that recently joined:
If you cannot find you dreamjob, we're always looking to recruit the best in the business. If that's you, feel free to send us your CV.