nWise
"Strikersoft's informal approach and responsiveness make them very easy to work with"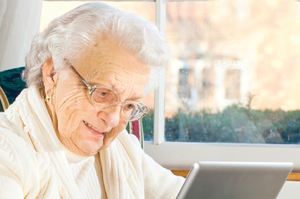 CHALLENGES
nWise are specialists in the field of communication services for individuals with special needs, such as the elderly and those in permanent care.  They pride themselves on the fact that they create solutions and services that put the spotlight on the individual, and give people access to communication on their own terms. 
When nWise approached Strikersoft, they wanted a solution that would not only benefit the individuals in need, but also the caregivers; that is a complete and dependable remote care solution that would enable patients to live at home, but still have access to high quality care.
"Since we worked with Strikersoft before on other projects we know they deliver modern solutions with a high-tech touch, which is what we were looking for," says Tomas Hörger, Head of Development at nWise.
SOLUTIONS
Together with Strikersoft, nWise developed an advanced communication solution that gives healthcare professionals access to a fully-integrated computer and telephone environment which allows them to attend and monitor patients in residential care, and those patients who choose to remain at home. 
The solution enables a variety of services such as: 
Home care for the elderly, with access to a nurse via a customized video terminal or TV
Round-the-clock care as the service is connected to a contact center 24/7
Sensors, patient reminders to take their medicine and the possibility to raise an alarm
Provision of self-assessment questionnaires giving healthcare providers a good overview of the patient's current health
Easily recordable medical information which can even be shared with relatives with the patients consent
IP-based video surveillance enabling healthcare providers and relatives to regularly see and check the patient
RESULTS
Patients who choose this solution not only have 24 hour access to high quality care through the possibilities the technology provides, but they also have all the comforts of their home environment, which can contribute to their overall well-being.  
From the healthcare perspective, healthcare providers can check on and monitor the patient more frequently as they do not have to travel to the patient to find out how they are.  Through self-assessment questionnaires, the possibility of IP based video surveillance, monitoring and video telephony, healthcare professionals can have even more frequent contact, without the added expense of a personal visit.  
"Strikersoft's informal approach and responsiveness make them very easy to work with, and we are currently working on the next phase of the solution which is to provide healthcare professionals with a web-based solution."