NDE Offshore
50% time savings with mobile processes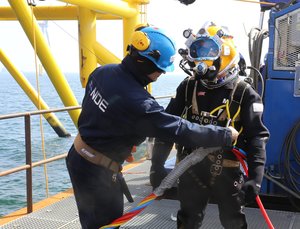 CHALLENGE
NDE Offshore is one of the leading diving and offshore services companies in Sweden, working globally with various tasks such as the welding and inspection of underwater installations. Just like in aviation, all parts of the diving equipment must be inspected and certified according to international standards. Inspection of diver's equipment is vital and can literally mean life and death for the divers if something fails.
Customers, as well as various supervisory bodies can carry out spontaneous inspections on the ships, and if the paperwork is not in order, they can shut the entire business down. Previously, the head office received mails from the ships after each equipment inspection. The information in the mails was then entered into a database, and the crew received a mail when it was time to service the equipment again.
RESULTS
The new system provided by Strikersoft automated the process by providing a real-time visual presentation of the status of every piece of equipment on board the ships. The new system also enabled a more mobile way of working, with the ship's technical manager writing the results of the equipment inspections directly into the system via a tablet.
Avoiding mails, having a more mobile working process, and being able to enter information directly into the system from the ships, has made the work of inspecting the equipment much easier all round. A first estimate shows a 50% time savings at the head office and a corresponding 10-20% time savings on the ships. In addition, NDE Offshore's customers have also benefited from the new system.  During inspections they can see everything directly on the screen, instead of going through piles of binders full of paperwork, thus saving valuable time in their operations.
"We have also received very positive feedback from our customers."

I also want to save 50% with mobile processes! 
Contact me to evaluate how much I can save.