Skyresponse
"Strikersoft are our go-to consultants"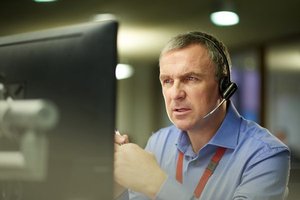 THE CHALLENGE
Analogue alarms, which leave users' safety at the mercy of unreliable phone lines, will soon be a thing of the past. Digital alarm services are now a well-established market that is growing at pace with the healthcare and security sectors' replacement of their outdated alarm systems. Swedish company Skyresponse AB provides market-leading solutions for alarm and incident management and, together with Strikersoft, has developed a number of unique services that have changed the market at its core.
A Cloud-based Nervous System
Skyresponse's alarm and incident management system is compatible with every kind of product and service imaginable and, like a cloud-based nervous system, is capable of connecting the physical and digital worlds. The system's applications include personal and care-alarm monitoring as well as the myriad of alarm solutions needed to support the growing Internet of Things (IoT).
Personal Alarms
Personal alarms are designed to protect people who are regularly exposed to threats or hazardous situations. Users must be able to activate these alarms easily and discretely, without the alarm itself causing the situation to escalate.
The target market for care alarms is mainly the elderly and ill. Consequently, these alarms are designed with a special focus on practicality and accessibility in any situation, regardless of whether the wearer takes a fall in the laundry, suffers a loss of vision, or is unable to get out of bed.
IoT
When it comes to IoT, on the other hand, incident management involves the alarm signal from a sensor attached to a device (such as a printing press, for example) being sent directly to an available engineer who can clear the fault.
The challenge with this type of alarm service is that it must work at all times. An unanswered alarm signal can have fatal consequences, meaning that there is simply no room for errors or delays.
Expert Developer Needed
In looking to update and improve its services for these various market segments, Skyresponse needed a collaborator with the expertise and resources required to quickly understand and realise the company's vision without sacrificing quality or user-friendliness. With these criteria in mind, Skyresponse chose to put its trust in Strikersoft:
"Strikersoft's major strengths are their wide-ranging expertise in IT and many highly-skilled developers. They design new solutions and understand what their customers want to achieve," explains Skyresponse CEO Martin Reidevall.
THE SOLUTION
Strikersoft upgraded Skyresponse's existing smartphone apps (for both Android and iOS) by adding new functions and also developed a whole new app for mobile alarm monitoring. Thanks to this new app, alarms no longer necessarily need to be handled by a response centre, but can also be received directly by individuals and personnel in the field. Logged-in users who are nearby and have the ability to take appropriate action can respond to alarms directly via a mobile phone.
Strikersoft also created a new graphic user interface for Skyresponse's web-based response centre. This new interface makes it easy for operators to gain an overview of and manage alarms as they come in.
RESULTS
The new mobile alarm monitoring service developed by Strikersoft helped Skyresponse gain a unique market position. The flexible and innovative system also attracted the attention of a large number of major industry stakeholders. Skyresponse's new app not only streamlines the alarm management process, since alarms no longer need to be routed through response centres, but also results in shorter waiting times before help arrives – minutes and seconds that could potentially save lives.
Today, Skyresponse's alarm system handles 1 million events generated by more than 12,000 people and devices at 150 businesses and organisations each and every month.
THE FUTURE
Strikersoft and Skyresponse enjoy an on-going collaboration that covers past and present projects and includes both upgrades to existing services and the development of brand new services. The next phase of their collaboration will focus on the Internet of Things and overcoming the challenges created by a world that is now online in every way and at all times:
"All the data and sensors out there today open up brand new opportunities in incident management and Skyresponse hopes to capitalise on this digital trend," says Martin Reidevall.
Connecting to sensors
Skyresponse's opportunities for growth include connecting its alarm service to sensors that monitor temperature and smoke emissions. When readings exceed a certain level, a fire alarm is triggered. This alarm reaches Skyresponse's system, which then relays it to the right person and response centre. The end-recipient then assesses the situation and can call in the fire brigade, security guards, or other personnel to the site as needed.
"The infrastructure to support this procedure is already in place. What we'd like to do is use our solution to improve and simplify these systems and apply new technology to reduce both personal injuries and property damage," Martin Reidevall concludes.
"Strikersoft are our go-to consultants. Their efforts have helped us attract many new and large customers and also given us the opportunity to make them part of our customer base and accept offers that have driven the company forward and made us market leaders."