SwipeCare® - eHealth in hospital
With SwipeCare, the doctor or nurse use a questionnaire on his tablet when examining the patient, which gathers all the information, step by step, and immediately stores it digitally. The system is flexible and can be configured for different forms of care, for example orthopaedics and advanced medical care in the home.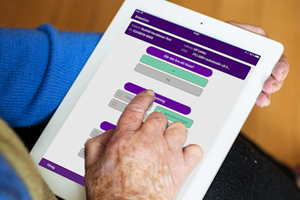 Common system
The inbuilt pre-decided structure of examinations and medical record writing, together with step by step methodology makes it easy for the caregiver to introduce and develop a uniform and structured way of working. It also gives caregivers an increased sense of security knowing that they covered everything concerning the patient.
Maria Holmberg, CEO at Praktikertjänst N.Ä.R.A., explains what she appreciates most about Stelpa. Stelpa is Praktikertjänst's internal name for SwipeCare®.
Learn processes faster
Training temporary personnel and handling the newly employed takes a lot of time in healthcare. With SwipeCare they can quickly get started with the processes since most of them are built-in. The tool also has integrated professional support which gives even more on-site assistance.
Write medical records faster
Today writing medical records is a time consuming process where assessments are often dependent upon which doctor and department the patient visits. Since many records are first dictated or handwritten, it often takes a long time before the notes appear in the collective medical record database.
Student Nurses about SwipeCare®
What do tomorrow's nurses think about eHealth? Do today's nursing programmes cover eHealth at all? We captured the spontaneous reactions of Sophiahemmet University's nursing students to SwipeCare® after they experienced the app at Praktikertjänst's recruitment booth during the university's Jobbtorg event.
Increased transparency
With SwipeCare the patient can go in and see exactly what examinations the doctor has carried out and what the results were. The system can give the patient information in 'ordinary language', which markedly increases patient participation as well as transparency.
Changed processes
Ramp-up time for an updated way of working is significantly reduced when new processes automatically appear in the caregiver's workflow. The same applies to manual checklists which have proved to be difficult to implement, where SwipeCare's inbuilt structure makes checklists a natural part of the work. Even following-up is easier since everything is documented.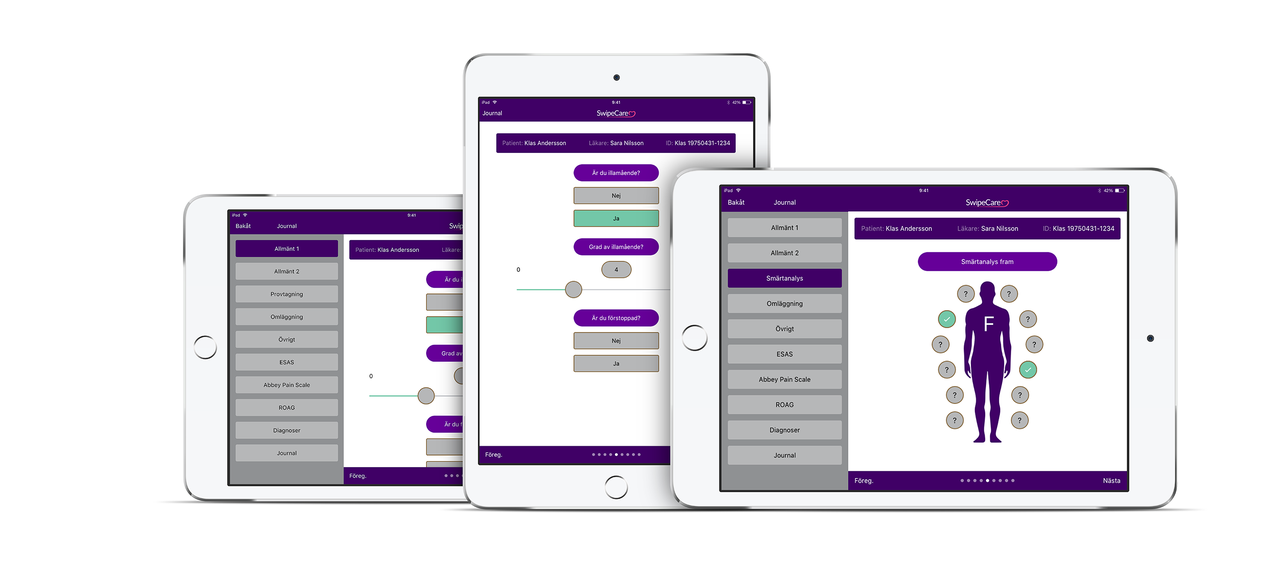 Patient-centric care
The mobile implementation of the tool, together with the intuitive user-interface mean that it is also easier to go through the checklist together with the patient. You can even let the patient fill in the data him or herself which increases patient participation.
More effective management process
SwipeCare makes the medical record management process and the documentation of a patient's visit more efficient, and can be used by doctors when they work in different software and IT environments.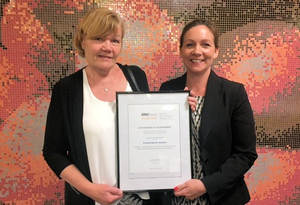 Technology
App-based solution (iOS)
Works with all medical record systems
Security via SITHS card and BankID
Fulfils the stringent requirements of the Swedish Data Protection Authority (DPA)
Supports openEHR
CE-marking approved